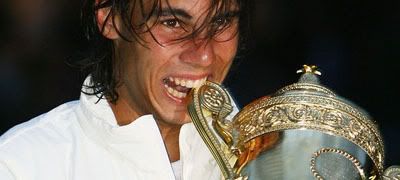 Rafael Nadal Wimbledon Champion 2008 after epic final
This was the third time in a row that Roger Federer and Rafael Nadal meet at the Wimbledon Men's Final and it was the best of the best.
Rafael Nadal has become the new Wimbledon Champion after overcaming the rain delays, darkness and a the best tennis player in the world Roger Federer who fough till the end.
The final was the longest in Wimbledon history and Nadal took his his first Wimbledon title with a terrific 6-4, 6-4, 6-7 (5-7), 6-7 (8-10), 9-7, win in an epic battle between the world's top two players.

Now Rafael Nadal career's will chance, no doubt about that. He lost to Federer the previous two Wimbledon finals (2006 and 2007) and was looking for his first major championship on a surface other than clay and he did it showing everyone that he is not just a clay court player.

He has won Roland Garros 4 times in a row now and as a professional player never lost a match at the French Open and 3 of those title he won them with victories over Roger Federer.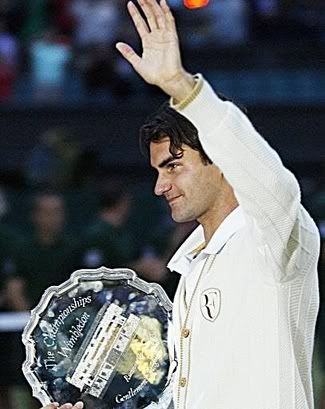 Today after the first 2 sets it looked like Nadal was going to win it dominating Federer like he did in Roland Garros a few weeks ago but Federer, a 12-time major champion and the five-time Wimbledon defending winner, displayed his championship mettle by outlasting the Spanish southpaw in third- and fourth-set tiebreaks.

The fifth set was a real marathon making this a 4 hour and 48 minutes match, the longest final at Wimbledon. Finally in the 15th game Nadal was able to break Roger Federer

After losing a championship point that Roger saved beautifily, Nadal finally completed the historic victory when Federer drilled a forehand into the net.


History was on the making with this 2 amazing champion, Roger Federer was not able to break Borg record of 5 consecutives Wimbledon title but he is still a true champion, and Nadal is the only player since Borg in the 70's to win Roland Garros and Wimbledon.

Congratulation to both players, both of them deserved the title after this epic final match full of high level tennis.


Information from Yahoo Sports Tennis - Here

Photo by Clive Brunskill/Getty Images
Roger Federer Photo Getty Images