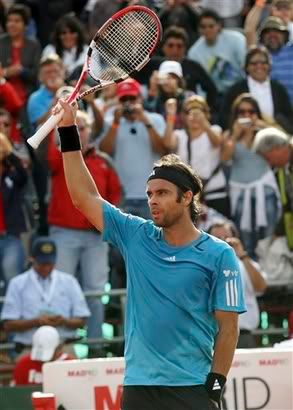 Davis Cup: Chile leads Israel 2-0
Fernando Gonzalez defeated Harel Levy 26 63 64 64 while Nicolas Massu beat Dudi Sela 46 62 62 64 to give Chile a 2-0 lead in the opening round of the Davis Cup.
Massu made honor to his gladiator nickname as he fought hard during a match that was more difficult for him than shown by the score.
In the opening set, Massu broke in the first game but Sela broke three times afterwards claim the set.
Massu picked up his game and dispatched Sela in the second and third sets.
In the fourth set Sela produced some long rallies, looking for errors from Massu. Sela took a 3-1 lead but Nico turned things around, got the break back and then broke once more to seal the win.

It was Gonzalez turn to give Chile one more point and something to smile about after a horrible week full of earthquekes.

Harel Levy started much better that the Chilean, took his chances and easily claimed the first set.

The Chilean took slow control afterwards, and one break per set was all he needed to take the victory home.
Levy was unable to build over his initial advantage, and Gonzalez proved how difficult it is to face Chile in their own back yard.

"It has always been very exciting to play for my country" Massu said. "I did not want to fail the people".

After his win Massu held his younger brother Stefano in an intense hug. "He's always traveling with me, enjoys my victories and suffers with my defeats. That's why I wanted to give this win to him."

"I was a bit tense at the beginning" Massu said. "I made some mistakes in the beginning, then I started to do better, started pushing his forehand instead of his backhand, and that was the key to it. I started moving more and that was all."

Gonzalez had similar ideas. "I did not feel as good as I wanted. I failed a lot in the first set, but my serve improved. What really is important is that we won."

"What has happened today has been very painful. I was in Iloca a couple of weeks ago, and now it saddens me a lot to see the impact of the tsunami in that area. I have a lot of hope that all of us together will help to rebuild this country."



Source Davis Cup
Photo AP