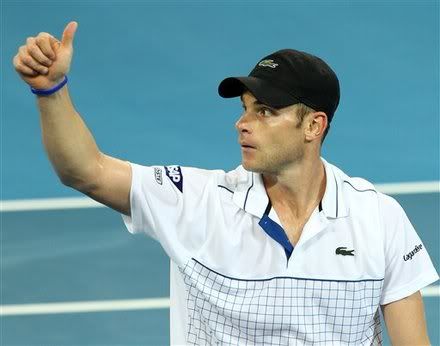 Roddick vs Soderling at Brisbane Final
Andy Roddick beat Kevin Anderson 6-2, 4-6, 6-2 to reach to the final of the Brisbane International, where he will play Robin Soderling, a 6-3 7-5 winner over Radek Stepanek.
Roddick took a 4-0 lead in the first set and won it in just 31 minutes.
In the second set play was postponed after a spectator appeared to faint. The former world number 1 drew cheers from the crowd as he offered a water bottle to the fan.
Anderson broke Roddick in the 10th game to win the set and even the match.
In the decider, the American raced to a 4-0 lead before claiming the match in just under two hours.
"Any time you can get five matches in, it's a good thing," Roddick said. "It's a little bit of a gamble playing and then having a week off—if it doesn't go right here you have a bit of time in between."

"Harder, easier, as long as you get to play again it's fine," said Roddick. "I felt like I was in control pretty much the whole match, even in the second set when I had one bad game. I felt like I had more looks at his serve than he had at mine. I actually broke more than I thought I might against his serve."

About playing Soderling, Roddick Commented: "We're going to see the best of what we've seen this week against each other tomorrow. He's playing great. He served really well today and was in control of his match. He hits the ball so big that a lot of times you're at his mercy. He's certainly improved a lot in the past two years. We've always had tight matches, so I don't see why tomorrow will be different."

Soderling broke Stepanek in the first service game and claimed a 3-0 lead and maintain it to win the set.

In the second set, Stepanek saved a match point in the 10th game and broke Soderling's service to level the set. Soderling broke back in the 11th game, then held service in the 12th to win the match.

"He is a player I don't really like to play against because he mixes up his game a lot," Soderling said. "But today I was able to handle it really well— that's why I am really happy with today's match.

"The final is the match you really want to win, but if I am going to lose tomorrow I still feel like I have had a very good week of preparation before Melbourne."

"I've served well and played well the whole week. Today was my best match and I'm really glad that I'm improving for every match," declared Soderling. "At 5-5 [in the second set] he was back in the match again, but I managed to play a really good return game to break him again. So far I feel good. I've had four really good matches, but the final is the one you want to win."


Source AP/ATP
Photo Getty Images