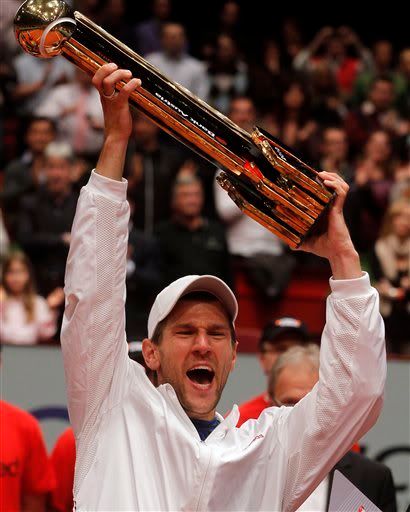 Jurgen Melzer Wins Title at the Bank Austria Trophy
Jurgen Melzer, the defending champion, defeated Andreas Haider-Maurer 6-7 7-6 6-4 to win the Bank Austria Trophy title.
Haider-Maurer is ranked 157th and enter the main draw as a lucky loser.
Melzer and his rival reached the tiebreaker in the opening set but after a forehand from Jurgen was called long, despite hawk-eye technology showing the ball hit the baseline, Haider-Maurer took a 1 set lead.
Melzer was broken at love at the start of the second set but was able to save another break point at 2-4 down. He finally started to dominate the match when Haider-Maurer, who was serving for the match at 5-4, double-faulted twice and hit two unforced errors and Melzer broke him. From that moment on, Jurgen had the match under control.

Both players saved break points in the early stages of the final set before Melzer broke through decisively in the seventh game and went on to seal victory in two hours and 47 minutes.

"It was very, very close," Melzer said. "I just hoped that Andy would start thinking about winning and would get nervous and that's exactly what happened."

"It's the crown on my great season," added Melzer.

"He's among the best players in the world and played fantastic in the third set," said Haider-Maurer.

"It's all still a dream to me," he added. "Obviously my next goal is getting in the top-100. When I keep playing on this level, it should be just a matter of time."



Source and Photo AP