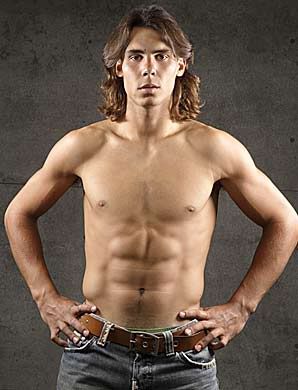 Rafael Nadal answers fans questions from the French Open 2009 - May 30th
Questions from The Times
Were you surprised at how comfortably you beat Lleyton Hewitt today?
RN: I think I played a very solid match and played very comfortable. I am really finding my best tennis.
Do you feel you are beginning to get back to your best after today's win?
RN: I have been practicing really well since I got here but when it got to the matches I have been not that consistent playing well. I think today, specially in the third set, I really found my best tennis back. I hope it stays and continues.
Robin Soderling, the No 23 seed, is next up, what do you know about him?
RN: He is a dangerous player and in Rome we played a very good match,. The result was not as easy as it looks.

Who of your rivals has impressed you most this week so far?
RN: I think that it is too early to pay attention to this. The tournament is long and there are still days to go that could change many things.

Questions from the fans

What was your most disappointing moment on the tennis court? Javidan Karkaria
RN: When you lose something that you feel you could have won.

Since you are on the road all the time, how many suitcases of clothes do you have to lug around? Amy, Houston, Texas
RN: I travel with a lot of stuff to be honest with you. Sometimes too much and I have to pay many times overweight... It is not only clothes but also other things such as computer, DVDs, play station, etc.

What is the one piece of advice you would give to youngsters who want to take up tennis as a professional? Shani, Cheshire
RN: To have fun, and to have fun. This is the most important thing. Then to practice hard and believe on what they are doing.

You like playing tennis on clay, but do you also like making things with clay (i.e., pottery?). Have you ever used a potter's wheel? Paul, London
RN: No, not really. Never tried.

Is there any difference in the way you approach a five-set match from the way you approach a three-set match? Do you eat differently, or pace yourself differently? Patricia, New York
RN: Absolutely. There is a big difference since both physically and mentally the match is very different.

What is your favourite sandwich filling? Julie Westbrook-Finch
RN: Tuna, but I am not a big sandwich eater.

You looked pretty shocked when a cat ran across the court in Doha this year. Do you have any pets? Judith Bell
RN: No, I don't.

Have you ever been on a scary airplane ride? Amanda, United States
RN: Yeah, sure , sometimes. Lot of bounces but I have been told that there is no real danger on that. It is very safe to travel by plane.


A&Q from Times Online