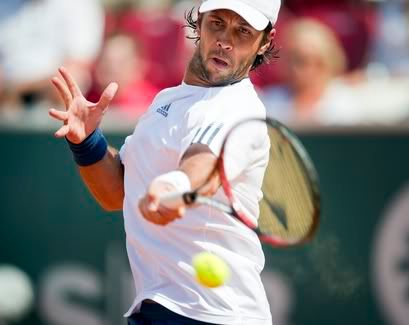 Robredo beats Verdasco, reaches Bastad semis
Video: Tommy Robredo Bastad Quarterfinal Interview
Video: Nicolas Almagro Bastad Quarterfinal Interview
Tommy Robredo upset Fernando Verdasco 6-4, 6-3 to reach the semifinals of the Swedish Open in Bastad.
Robredo converted three of nine break point opportunities for victory in 83 minutes.
Verdasco won 58% of service points and hit four double faults.
"If you don't play the best match of the week against a top 10 player, then you lose," Robredo said. "I was focused all the time."
Robredo will play Nicolas Almagro, who beat Franco Skugor 4-6, 6-4, 6-0.

Robredo run down every ball and was very aggressive against his contryman.

Verdasco's groundstrokes were not at his best and Robredo took advantage of that. Tommy broke his opponent for a 4-1 lead in the opening set but Verdasco reacted and broke back. At 5-4 on his serve, Verdasco missed a forehand long to give Robredo the set.

Robredo continued to dictate play in the second set. He broke in the fourth game and took a 4-1 and then 5-2. Robredo claimed the victory on his third match point when Verdasco hit an easy return long.



Source Yahoo/ATP/Tournament website
Photo AP