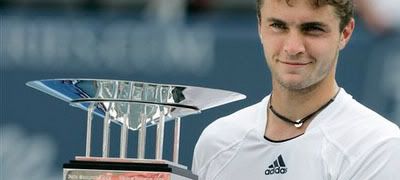 Gilles Simon Indianapolis Tennis Championships 2008 Champion
Gilles Simon, second seed, won his first ATP title in the U.S. and 4th of his career after beating Dmitry Tursunov, 3rd seed and defending champion, 6-4 and 6-4, at the Indianapolis Tennis Championships.
Simon is the first Frenchman to win the Indianapolis title.
This was Simon's second title of the year, he was a winner in Casablanca in May, and he was making his first appearance in Indianapolis.
He enjoy great wins during this tournament as he defeated Tommy Haas, 5th seed, and Sam Querrey, 4th seed. All his previous matches went to 3 sets.

Gilles Simon, is ranked 25th and he saved eight break points in the third set of his win over Querrey in the semifinals, and on Sunday's final he did the same great job by saving all nine break points he faced. After breaking to take a 4-3 lead in the second set, he saved four in the eighth game as he battled back from love-40.

The only break in the opening set came in the third game as Simon went up 2-1. He didn't face another break point and served out the 43-minute set.

Dmitry Tursunov was attempting to become only the third player to repeat titles in Indianapolis, the first since Andy Roddick in 2003-04. Pete Sampras also won back-to-back in 1991-92.

Tursunov's serve did not help him much today and he struggled on second serve points, winning only 34 percent compared to Simon's 64 percent. Simon converted two of six break points in the one hour and 35-minute match.


"Today was my best match. I didn't have many unforced errors, I had a good serve," said Simon, who is expected to move to around a career-high No. 21. "That was the match I wanted to play. I was very close to playing my best tennis.

"It's special for me because it's not the kind of court I like best. I wanted to play a tournament just to get used to the court. This is a special win for me. It was really nice because every round I played a really good player. They were all good players with a big serve.

"Every time I played a break point, I played a nice point. You lose just one and you can lose the set. I don't have a very good serve, so I know every match I'll have to save some break points."
"When I had a break point, he played good and I made errors. He got the break early and put some pressure on me. I have to go for my shots, and there's little margin of error. When I get nervous, it shows. I needed to stay in those points a little longer, but it's a bit surprising how many balls he gets to. In the beginning of the first set I was trying to hit it pretty hard, but it seems like he feeds off your pace." said Tursunov.


Simon is the first-week leader of the Olympus US Open Series.


Article from www.atptennis.com
AP Photo/Darron Cummings